Robot Blurbs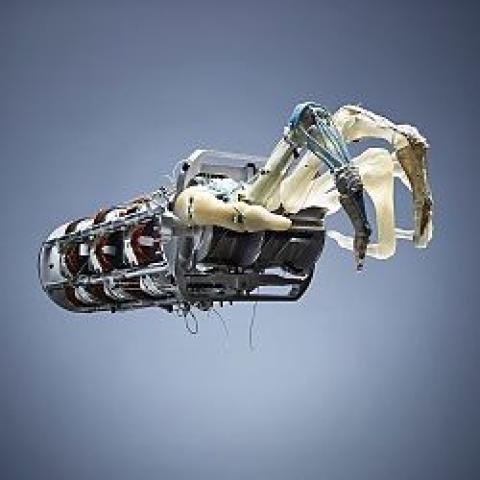 ACT Hand
The Anatomically Correct Testbed (ACT) hand has been designed to match the biomechanics of the human hand.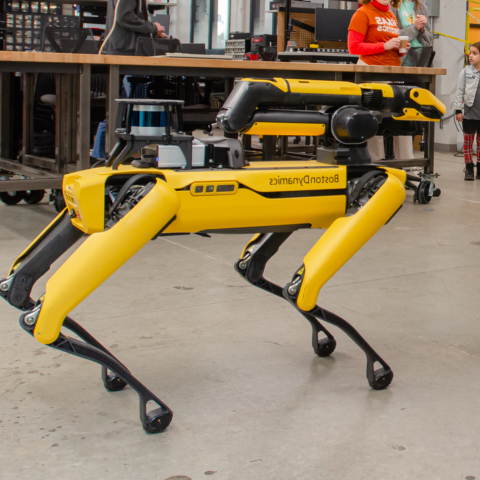 Alph
Alph is an armed Spot robot from Boston Dynamics used for searching for Alpha radiation.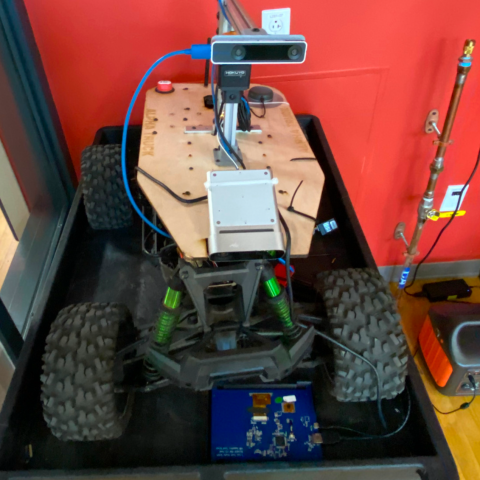 Alpha Truck
Alpha Truck is used for high speed autonomous navigation and movement.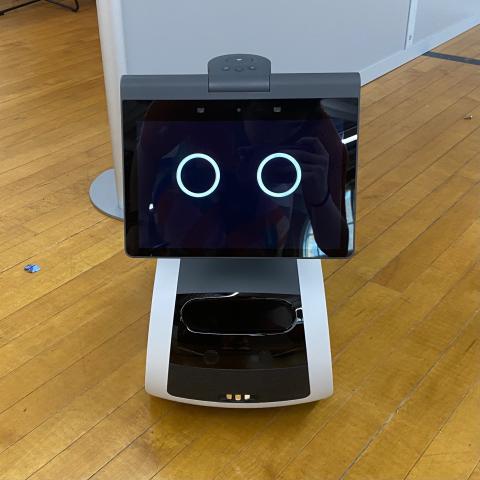 Astro
Astro is an Amazon human assistance robot, programmed with Texas Robotics mapping, navigation, and localization software.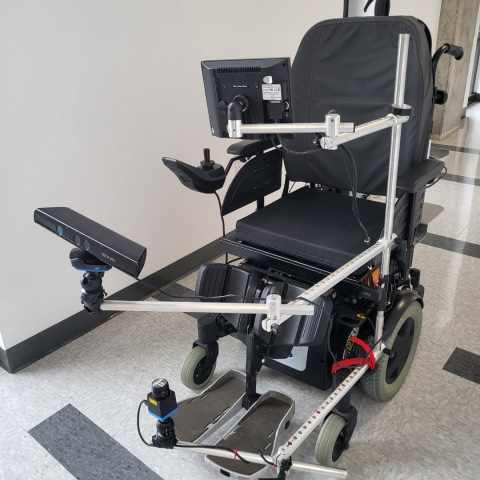 Brainy
Brainy is an Invacare wheelchair controlled by a brain-machine interface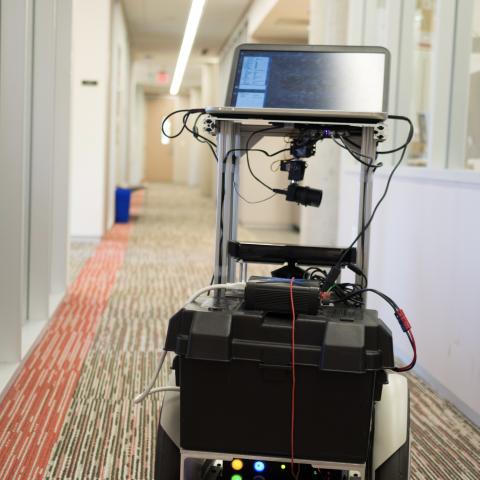 BWI Bots
The BWI Bots are a fleet of robots used for mobile autonomy and social autonomy experimentation and development.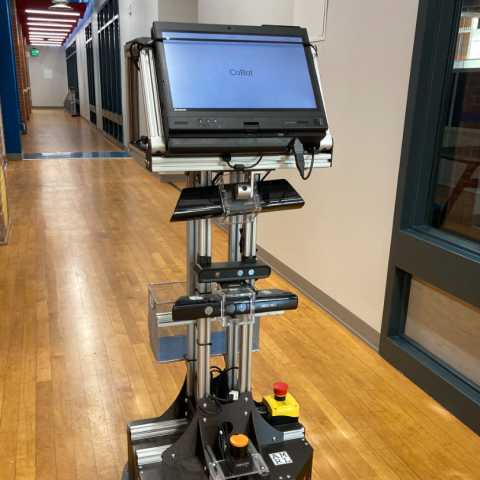 Cobot
The Cobot is used for research on localization, perception, and human interaction in indoor environments at UT. It is equipped with a depth sensor, a monocular camera, a 2d LiDAR scanner, an onboard laptop with a graphical user interface for human interaction.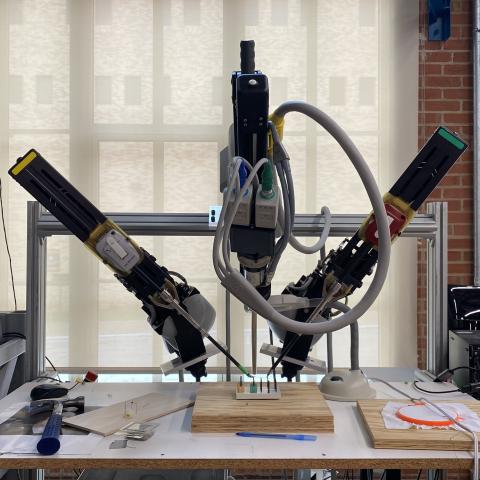 Da Vinci
Texas Robotics has 2 Da Vinci robots, which are surgical robots used for performing tele and precision surgery.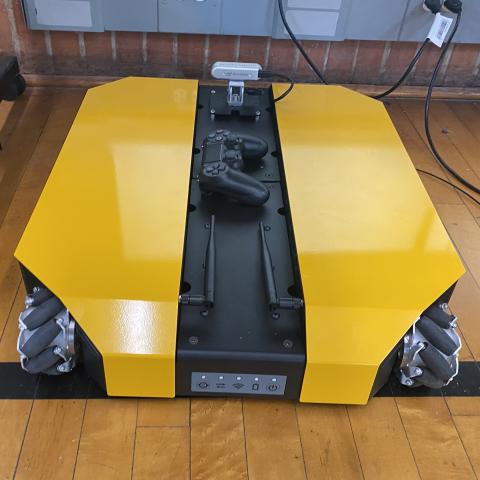 Dingo-o
Dingo-o is a flat back robot used for developing movement and response capabilities.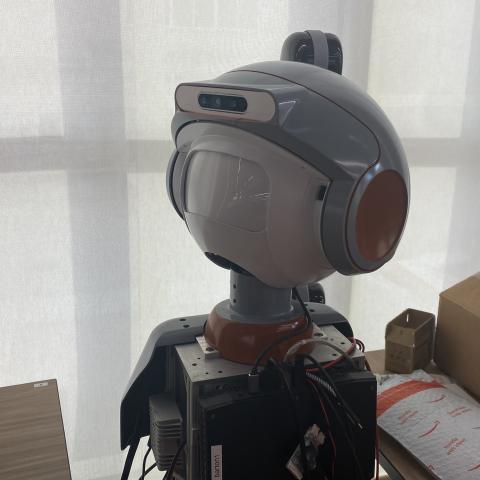 Fetch
Fetch is a mobile autonomous robot, programmed to deliver supplies during the COVID19 pandemic.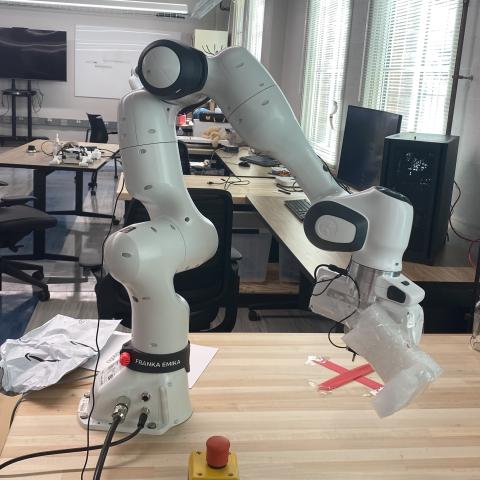 Franka Amika Arms
The Franka Amika arms, of which Texas Robotics has several, are used for object identification and manipulation.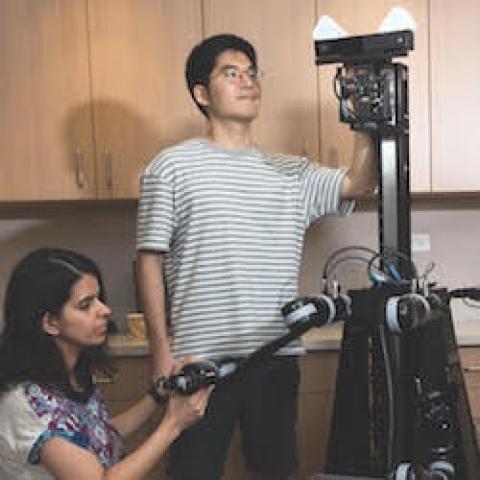 Gemini
Gemini is a mobile manipulation platform designed for performing a variety of tasks in the home and workplace.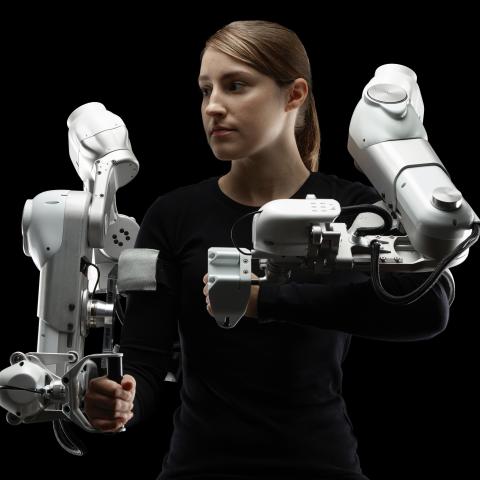 Harmony
Harmony is an upper body exoskeleton developed for the rehabilitation of the arms and shoulders for stroke, burn, and traumatic brain injury patients.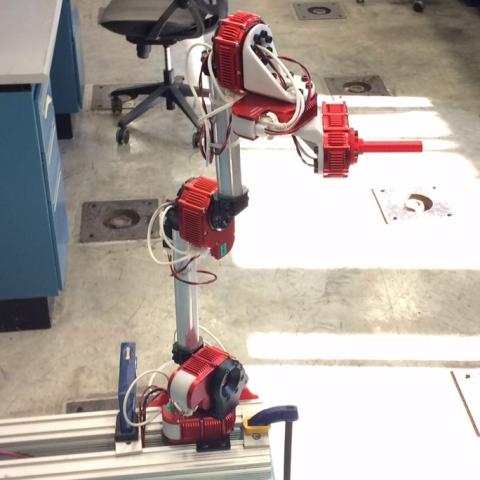 Herbie
Herbie is a serial manipulator test-bed for developing software to control HEBI series elastic motor modules.
Husky
Husky is a robot from ClearPath robotics modified for general mobile autonomous navigation and mapping.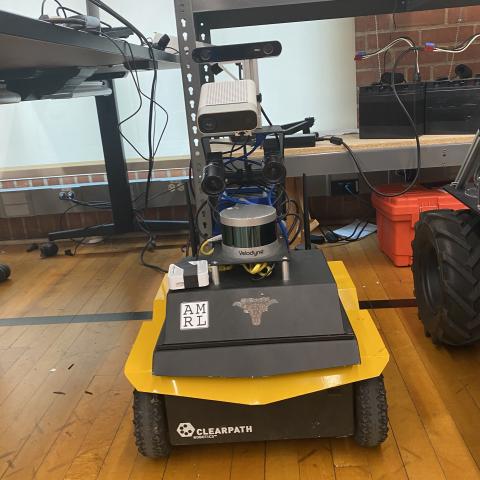 Jackal
Jackal is a smaller ClearPath robot modified for terrain aware localization, mapping, and autonomous movement.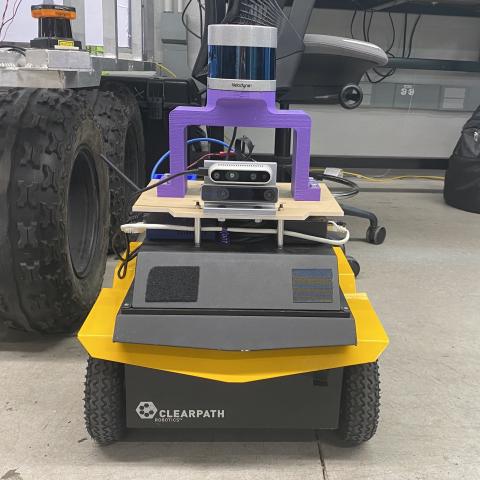 Jackie
Jackie is a small ClearPath Jackal robot used for mobile autonomous movement.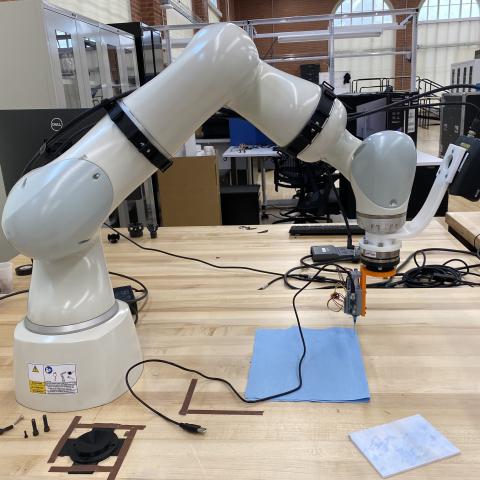 Kuka Arm
The Kuka Arm is used for 3D printing bio materials.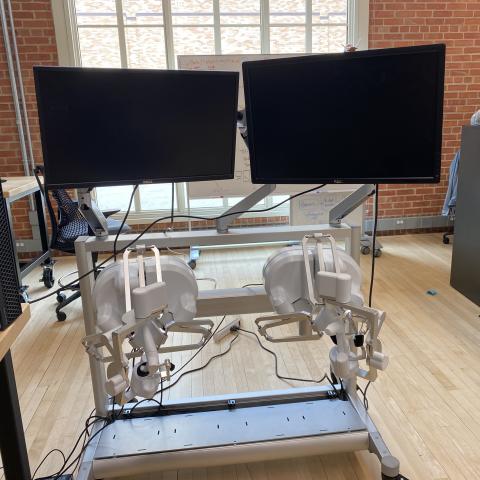 Lambda
Lambda is a haptics robot which is used to program haptic responses to virtual environments.
Maestro
Maestro is an active hand exoskeleton, designed and developed in ReNeu Robotics lab to study novel methods of hand rehabilitation.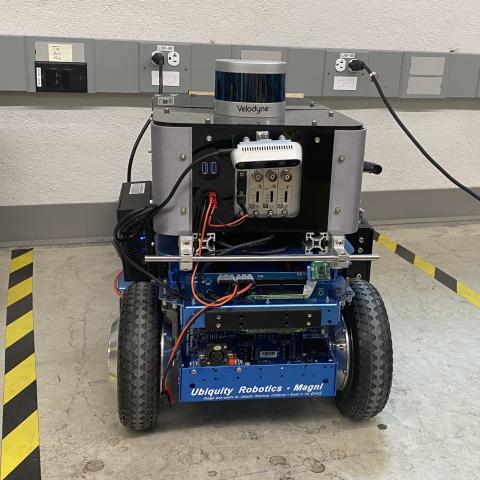 Magmi
Magmi is a robot built to detect radioactive contaminant on floors.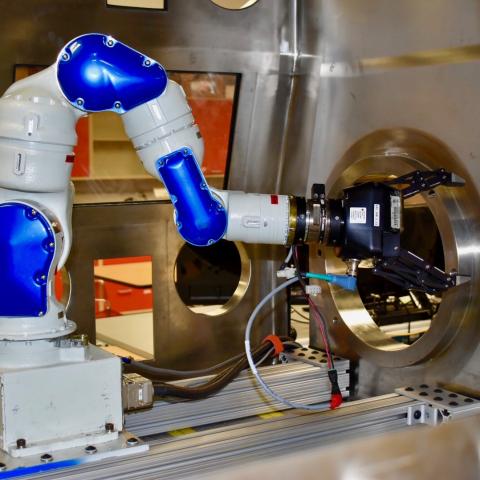 Multiuse Workcell
The Workcel is a Yaskawa 7DOF SIA5 with a Robotiq gripper and F/T sensor sits inside a regulation DOE glovebox and is designed to perform multiple manufacturing tasks.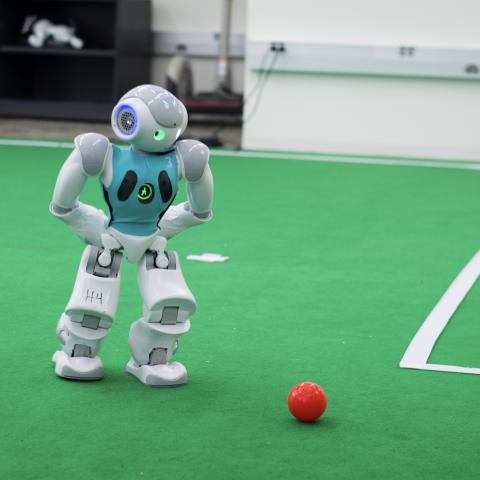 Robocup Soccer
The Robocup soccer team is a collection of robots at UT programmed to compete in mobile autonomous soccer.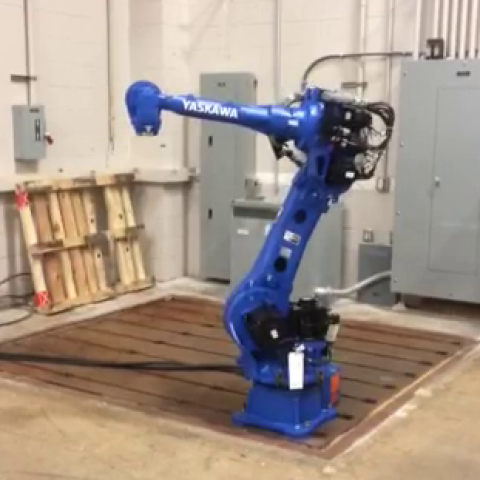 Sandy
Sandy is a Yaskawa Motoman (MH80 II) high speed 6-axis robot for additively manufacturing concrete structures.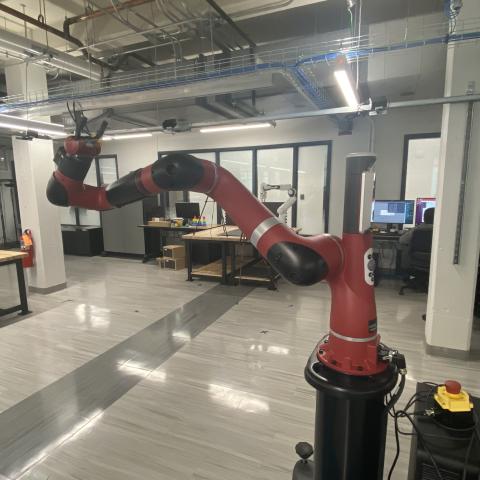 Sawyer Arms
The Sawyer Arms, of which Texas Robotics has two, are mobile grasping arms used for object identification and manipulation.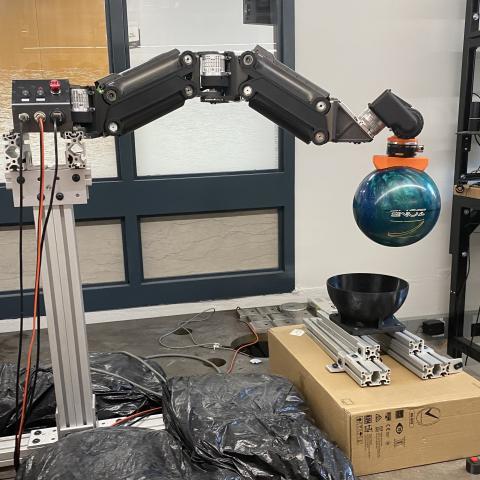 Scorpio
Scorpio is a precision machining robot built to maneuver spherical work pieces in nuclear manufacturing.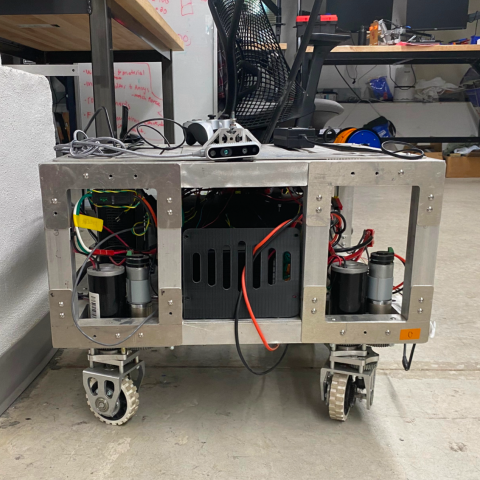 Scratt
Scratt is a custom robot design, fabricated in house, used for omnidirectional movement.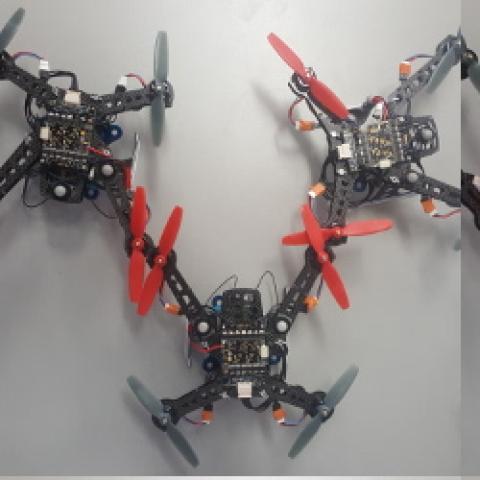 Snapdragons
Snapdragons are small and agile quadrotors which runs the PX4 Flight Stack Qualcomm's Snapdragon Flight platform.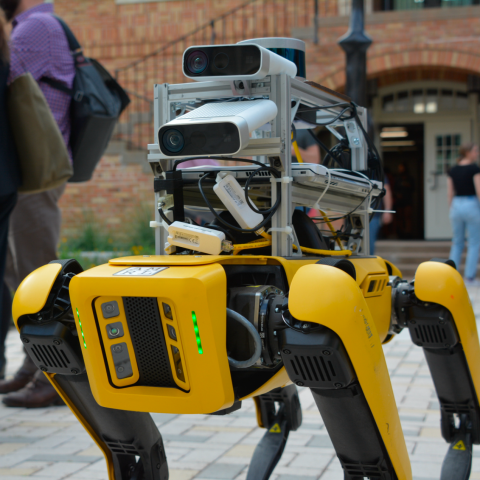 Spot
Spot is a robot purchased from Boston Dynamics and modified to perform research on terrain aware autonomous movement.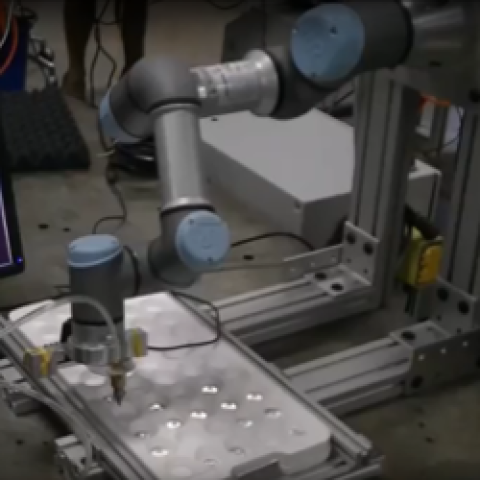 Stewie
Stewie is a Universal Robots UR3 which primarily serves as a testbed for hardware and software applications in industrial robotics.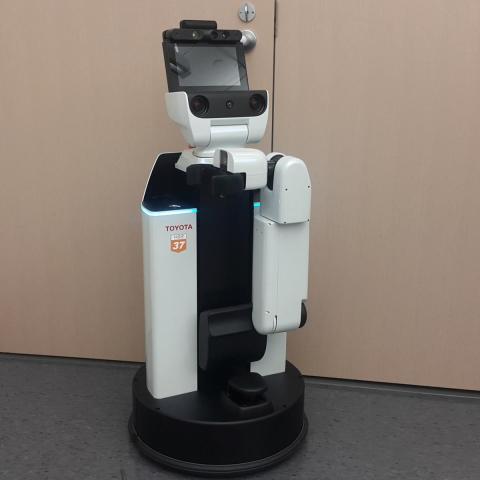 Toyota Support Robot
The Toyota Support Robot is a robot used to identify and manipulate household objects. This robot competes in Robocup at home.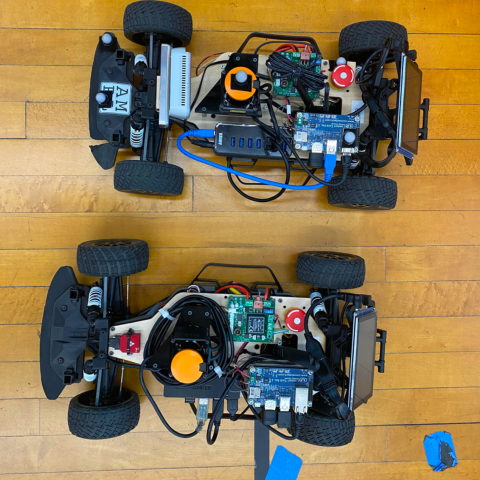 UT Automata
UT AUTOmata are small F1-10 robots used in robotics classes on autonomous driving.
Vault Bot
Vault Bot is an inspection robot for use in nuclear and other hazardous environments.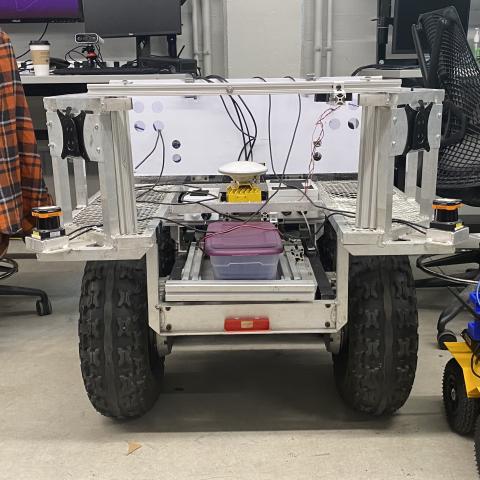 Walrus
Walrus is a now retired robot previously used for showcasing autonomous movement capabilities. (RETIRED)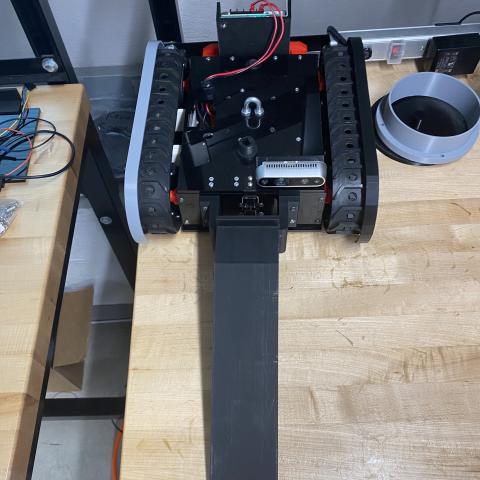 Wombat
Wombat is a robot that inspects weather seals on floating tops of oil storage tanks.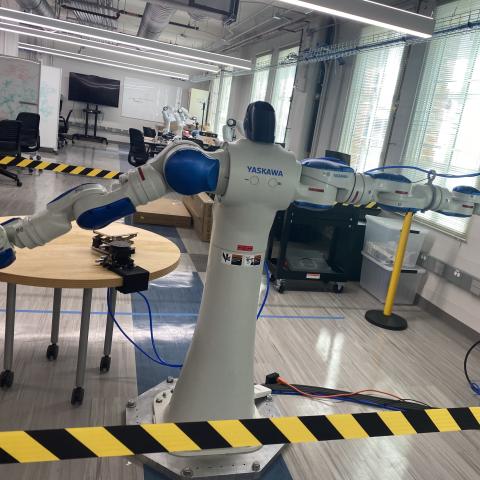 Yaskawa Arms
The Yaskawa Arms is a heavy payload robot arm set used for robot arm manipulation.