Texas Robotics Research Symposium
Join us for the 2021 Annual Research Symposium, on Friday, October 8th!

Texas Robotics students and faculty will be presenting their latest research in areas of long-term autonomy and human-robot interaction, and will also feature innovative work presented at IROS 2021 as well as at other related robotics conferences around the world.

Industry Guests are invited to attend from 9:30am - 12:10pm CST
Students, Staff, Faculty and Sponsors are invited to attend from 9:30am - 3:30pm CST 
Register for the 2021 Texas Robotics Symposium at:
https://bit.ly/TXRoboticsSymposium2021
Symposium Agenda
Friday, October 8, 2021 | 9:30am - 3:30pm CST 
*Industry guests will be invited to attend the morning session
9:30am - 10:00am
Rolling Start for help with Zoom registration and greeting
9:50am 
What Starts Here - Texas Robotics
10:00am - 10:10am
Welcome and Opening Remarks | Peter Stone
10:10am - 10:40am
How to learn to reach, walk, swim and fly in one trial? Well, first, admit that you are not dumb!, Ufuk Topcu | Assoc. Professor, Department of Aerospace Engineering and Engineering Mechanics | Core Faculty, Texas Robotics
10:40am - 10:50am
Augmenting Reinforcement Learning with Behavior Primitives for Diverse Manipulation Tasks | Soroush Nasiriany
10:50am -11:00am
Correcting Anxious Movements on da Vinci Surgical Robot | Yi Zheng
11:00am - 11:10am
Enabling Intuitive Human-Robot Interaction Through Sonomyography | Kaitlin Rabe
11:10am - 11:20am
Robot Motion Planner for Under-constrained Trajectories with Part-Specific Geometric | Ademola Oridate
11:20am -11:30am
AssistMaestro: A BMI Controlled Hand Exoskeleton | Hussein Alawieh
11:30am - 11:40am
Stable Online Gain Adaptation of Whole-body Control for Legged Robots with Unknown Disturbances | Jaemin Lee
11:40am - 12:10pm
Faculty Research Roundtables 
12:10pm - 12:15pm
5 Minute Break
Second Part of the Program - Industry Partner & UT Guests
12:15pm - 12:45pm
Faculty Talk, Ann Majewicz Fey | Associate Professor, Department of Mechanical Engineering | Department of Civil, Architectural, and Environmental Engineering | Department of Surgery and Perioperative Care
12:45pm - 12:55pm
TBD | Keya Ghonasgi
12:55pm - 1:05pm
Leveraging Human Gaze Data to Enhance Robot Learning from Demonstration | Akanksha Saran
1:05pm - 1:15pm
TBD | Yuqian Jiang
1:15pm - 1:25pm
Probabilistic Object Maps for Long-term Robot Localization | Amanda Adkins
1:25pm - 1:35pm
Synergies Between Affordance and Geometry: 6-DoF Grasp Detection via Implicit Representations | Zhenyu Jiang
1:35pm - 1:45pm
TBD | Orion Campbell, Appronik
1:45pm - 3:00pm
Speaker Office Hours | Student Poster Session | Guest Mixer - GatherTown 
*3:00pm -3:30pm
30 Minute Time Buffer
Texas Robotics Portfolio Seminar Series
Held online at 12:30pm every other Tuesday. Please contact Dr. Justin Hart for more information and access to the Seminar. 
Student Programs
UT Austin supports many faculty and student driven groups with a passion for robotics. Everyone is encouraged to contact any of the groups below if you are interested in learning more. Or, if your group is not listed here and should be, do not hesitate to contact us.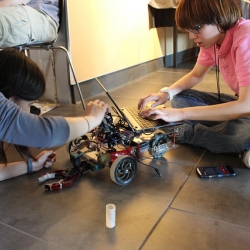 ​IEEE Robotics & Automation Society at UT Austin: A student organization building robots since 1997. The group has a large majority of undergraduate students with backgrounds from mechanical, electrical, aerospace engineering and computer science, but all are welcome. RAS aims to help students gain practical multi-disciplinary experience in the lab and demonstrate their abilities at various robotics competitions. Group places a high priority in community outreach and participation in robotic competitions.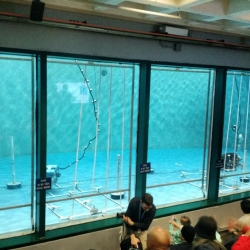 The Marine Technology Society was founded in 1963 in order to give members of academia, government and industry a common forum for the exchange of information and ideas in the marine technology area. The society sponsors team(s) that participate in MATE's Annual International ROV Competition.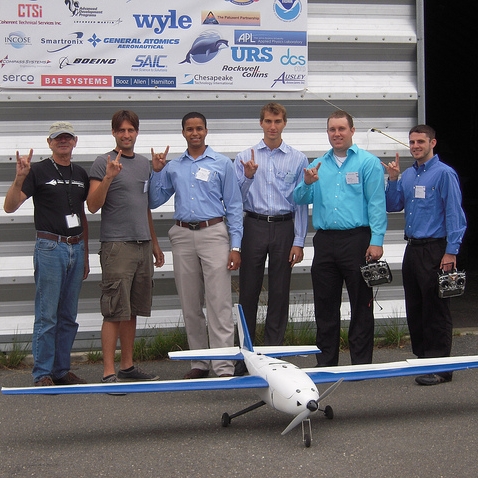 The Unmanned Aerial Vehicle (UAV) team designs and builds unmanned aircraft systems that can fly autonomously. The team has been recognized for their work in an annual competition hosted by the Association for Unmanned Vehicle Systems International.