Girl Day 2023
Girl Day 2023 at Texas Robotics was a success!
March 2, 2023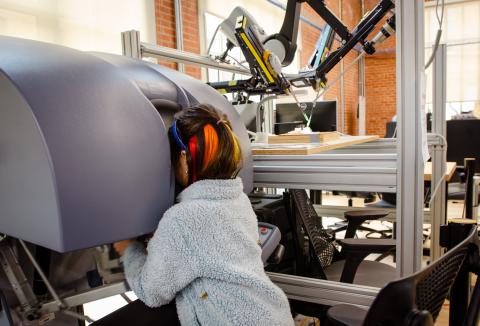 Girl Day was held February 25, with Texas Robotics activities hosted in AHG and the AHG courtyard. With an estimated attendance of over 800 people to our activities, Texas Robotics hopes to have inspired many future roboticists.
There were multiple activities at AHG including a gravity robot building activity, an electric car education and racing activity (in partnership with UT Austin Eco Car), three outdoor robot demos, and many facility tours and demos. 
Seven labs participated in hosting demos and activities, and Texas Robotics would like to offer a special thanks to Dr. Alambeigi, Dr. Stone, Dr. Biswas, Dr. Pyror, Dr. Martin-Martin, Dr. Zhu, Dr. Deshpande, and Dr. Majewicz-Fey for volunteering their time, lab, and robots during this event. 
Also, thank you to all of our student volunteers and attendees. All of the activities at the event are available for at home access through visiting our Community page.
We hoped you enjoyed Girl Day as much as we did. See you all next year!